Since 2009, the German Red Cross (GRC) has been dealing with processes of social and technical change in a scientific context relevant to the tasks of the GRC in civil protection. On this website we present our research work at the interface to practice. Here you will find all information and materials on current and completed projects, our research publication series (free download) and other publications in the field of research in civil protection.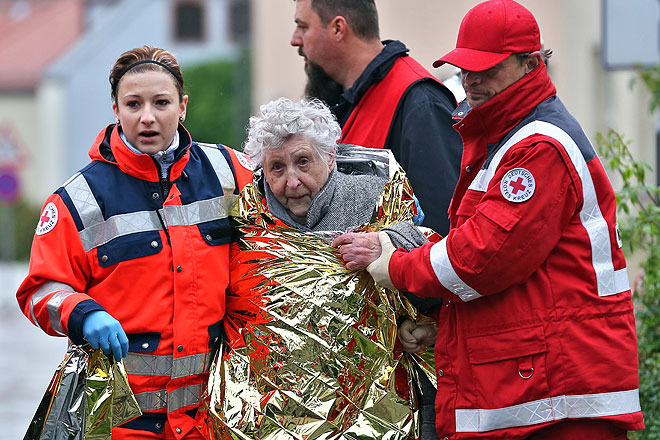 Publication series Volume 6 Part 1
Volume 6 of the series deals with elderly people and those in need of care in crises, major emergencies and disasters. This first part serves as an introduction of the content. Scientific findings and practical challenges are presented. In addition to the research-based approaches, the research project KOPHIS is introduced.
BMBF Innovation forum "Civil Security"
19/20 June 2018 in Berlin: The conference on the framework programme "Research for Civil Security" aims at the exchange of actors from the specialist scene and was well attended by over 600 participants. Ms. Szepan, Head of the Nursing Department of the AOK Federal Association (see photo above, right) showed great interest in the research work of the GRC and the publication series.
Publication series Volume 5 Part 1
Volume 5 is devoted to the topic "Web 2.0 and Social Media in Civil Protection". Social media platforms are becoming increasingly popular and are gaining in importance even in crisis and disaster situations. These processes of change also influence the work of the GRC associations. In the first part, the further development of the Internet in the form of Web 2.0 and social media are presented.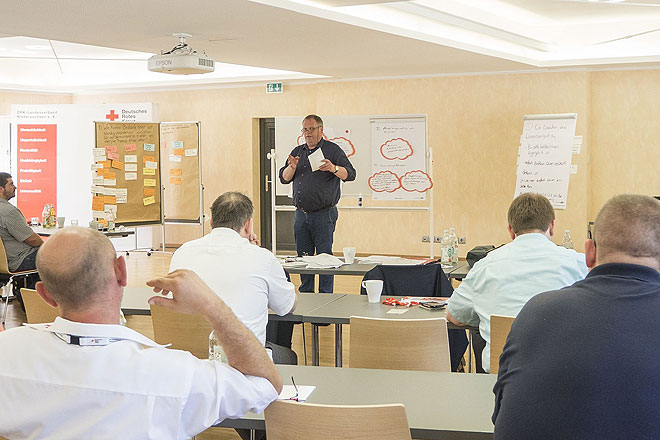 Publication series Volume 4 Part 3
Volume 4 documents the results of a scientific study on the strengthening of social resilience by the disaster control specialist service "Betreuungsdienst"/"disaster services". Part 3 summarizes the results of the Consultants' Conference "disaster services". Martin Bullermann, head of federal emergency services, (see picture above) discussed experiences, needs and suggestions for improvement with his consultants.