At first, the German Red Cross (GRC) seems to be more practice-oriented in research projects. However, it is also an important part of the scientific understanding and further development processes.
In doing so, the GRC has a central role as a mediator between science, industry and participants in civil protection. Social and technical processes of change are identified. At the same time, the needs for action for executives and helpers in civil protection are pointed out and research questions are formulated out of this. These research questions are analyzed with the help of scientific and practical knowledge in order to develop efficient solutions and formulate practical recommendations for action for executives and helpers in civil protection.
The aim is to take scientific findings already into account in practice during a research phase in order to orient practical action on the basis of science and, on the other hand, to ensure an immediate transfer of these findings. At the same time, practical implementation experiences can be fed back into the research process. This is how practice turns into research and research turns into practice.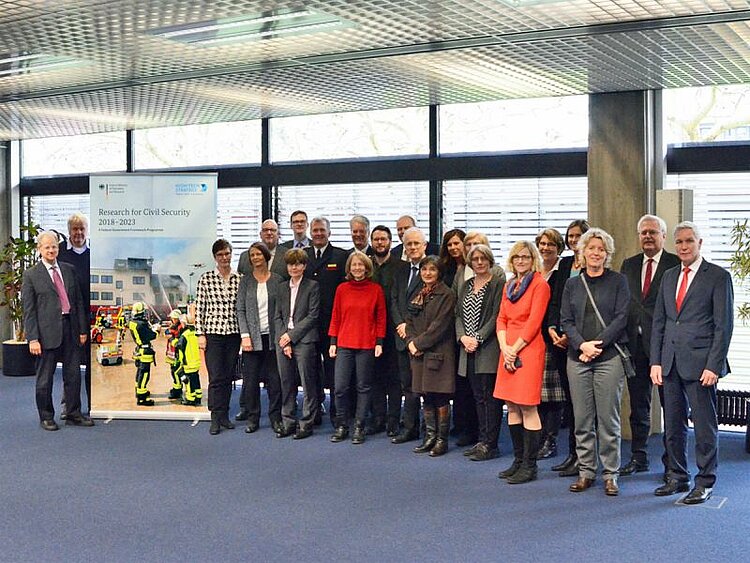 Matthias Max, Head of Research, is an appointed member of the current Scientific Advisory Board on the "Research for Civil Security" programme. As an independent committee of experts, it advises the Federal Ministry of Education and Research on questions of civil security research. The Scientific Programme Committee consists of experts from all relevant scientific disciplines, industry, private infrastructure operators, public authorities and organisations with security and safety tasks.
Left chart "Practice turns into research":
The investigation of the experiences from the work of the GRC in incidents led to an identification of needs for action for executives and helpers in civil protection (social development, resilience and resource management). On the basis of these practical findings, the needs for action are continuously formulated and analyzed by the GRC with the help of scientific projects.
Right chart "Research turns into practice":
Within the research work of the GRC, the scientific analysis reveals the needs for action which are passed on to the civil protection executives and helpers for practical implementation.