GRC's humanitarian assistance in Syria
Despite the difficult security situation in Syria, German Red Cross has been providing assistance inside Syria since the beginning of 2012. A GRC delegate in Damascus coordinates GRC's relief activities in Syria which are implemented together with and through the national society, the Syrian Arab Red Crescent (SARC).
The conflict in Syria has turned into the biggest humanitarian crisis worldwide. Since the beginning of the conflict, more than 250 000 people have been killed and over one million people have been injured. More than half of all Syrians have been displaced, many of them several times.
Today more than 13.5 million people are dependent on humanitarian assistance, out of which 5.6 million are children. SARC volunteers and staff are constantly in action to attend to those needs. In this crisis, SARC is one of the few organisations that has access to the conflict areas in order to be able to provide relief assistance. In some areas the SARC is in fact the only organisation that is able to perform first aid, evacuate the sick and injured and supply people with vital relief supplies. SARC is therefore the most important player for the entire humanitarian operation and for the distribution of relief supplies in Syria. Together with the ICRC, the SARC has also taken on an important role in the exchange of prisoners of war and the exchange of bodies of soldiers who had been killed during the fighting between the conflicting parties.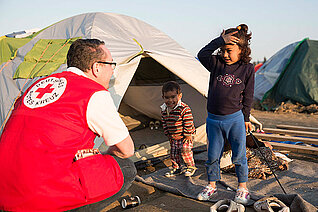 Download the flyer and read more about GRC's humanitarian assistance in Syria: